Seriously! No more grumblings from you, San Franciscans, about us in the City of Angels. We know you think you have the best, the most and the biggest. We know your beloved Giants won the 2014 World Series.
But we got the steepest street. The steepest street in California, even.
So, suck it San Fran!
The street? It's called Eldred Street in Highland Park. Wait, San Franciscans, you haven't heard of Highland Park? Well, you don't know everything, now, do you? And don't argue with me that you have steeper. 'Cause you don't. This has exactly a 33.3% gradient. Your steepest streets? 22nd and Filbert. 31.5% gradient. We win!
And there's more. Guess what? We have three more steeper streets than your 22nd and Filbert. We have 28th Street, Baxter and Fargo. Not only that. Eldred Street and those other three are the 3rd, 4th, 5th, and 6th steepest in the country. The whole COUNTRY. Your 22nd and Filbert are 9th and 10th. The Streets of San Francisco don't look so steep anymore, now, do they?
Click the image to enlarge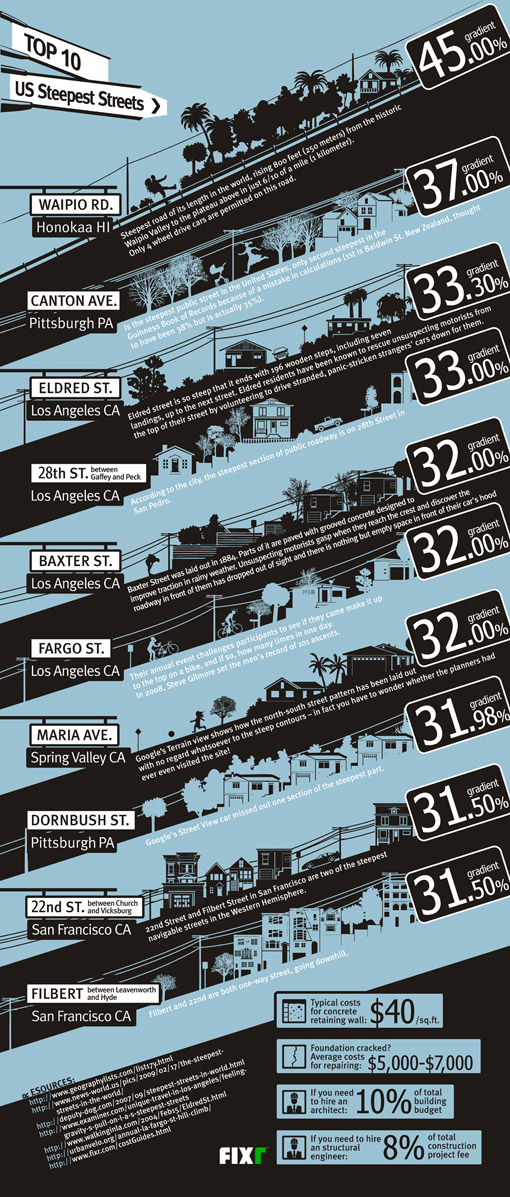 Via
fixr
So, San Franciscans, I wanted to check that street out for myself; especially, since, yes, I'm familiar with climbing your streets and stairs. And, yes, I do know which way to turn the tires against the curb depending on whether my car faces up or down. 'Cause we do that here, too, you know.
So, I hit up Kelly, who is a good friend and another "I love L.A." blogger, and we set aside an afternoon to hike up that street. Yes. That one – the steepest street in California, San Franciscans.
It's not until I finish my cup of coffee in the morning that I start getting revved up for the hike up that street. It's been on my list for some time now – just to say I climbed it or, maybe, more obituary material for my relatives to use.
To prepare, I'll need a little nourishment, I think, and a lot of water. So I make a plan with Kelly to meet at El Huarache Azteca in Highland Park for lunch. By the way, San Franciscans, you may say you have the best fine restaurants around, and maybe you do, but I bet no mexican place of yours can beat this place. Not even the price. This place has The Best mexican eats, you know, and from your wallet, you won't need to pull out more than a ten-dollar bill.
So I get on The 101 to The 134 to The 2 then off at York and drive all the way down until I get to Highland Park. It takes only 22 minutes. We eat at the restaurant then land at the base of Eldred Street with our bellies full, 1.7 miles away from the Best Mexican Food around. We don't have to negotiate curbside wheel-turning, San Franciscans. We get to park flat.
Kelly and I stand at the base of the slope and watch it like we're watching a movie from the front row of a drive-in. After two deep sighs, it's – Ready. Set. Go. We start the big, long steep climb.
As we're panting, sweating, huffing and puffing, we make it to almost three-quarters of the way up that hill and Kelly gets a brilliant idea. "Walk backwards," she says. Much better! And before you know it, San Franciscans, we're up at the top of the street. The steepest street in California with no more huffing and puffing. Our sweat has dried. As we get to the end of the road, we see we're not at the end of the street. We're just at the end of the road. There are stairs that continue the street, San Franciscans. Just like yours.
So, what the heck? We've come this far so we climb those stairs, reach the end and look down on the valley below. We did it! I can't help it. That Rocky movie theme keeps playing in my head over and over and continues to play all the way back down.
Next stop, Silver Lake. To climb some more stairs.
If you want to check out Kelly's blog, she's at KMTWanderlust.com
Go to elhuaracheaztecala.com for El Huarache Aztecala restaurant for more info
Infographic was from Fixr.com a website that provides costs guides for home remodeling
I'm sorry, San Francisco. I do love you. But I love Los Angeles more.